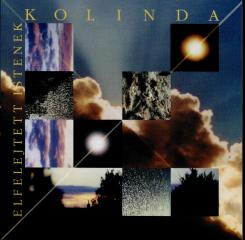 Kolinda were formed in 1975, the name finds its roots in the Christmas and New Year's songs about the Betlehem playing. Kolinda represents the folk music of Eastern Europa with amazing richness. Their music contains a mix of classical and jazz influences. Nowadays Kolinda play Real World music with a stunning balance between instrumental, vocal, acoustic and keyboard sounds. In the new Millennium, Kolinda celebrate their 25th Anniversary with their tenth album "

"They're one of the most interesting European groups that I've heard," says Gary Cristall, organizer of the Vancouver Folkfestival, "but they do it in a different way. Even though they were doing traditional stuff, it had a different edge to it. They've never been looked on very favorably in Hungary. They were always a little too far outside."
Kolinda's reputation for being outside comes from the way they mix elements of Hungarian and Balkan folksongs with a large amount of jazz, a bit of classical, and even a few notes of rock. Their music manages to melt the passion and urgency of gypsy music with the cerebral with of cool jazz, an exciting combination that makes them one of the most successful hybrids of folk and contemporary music around today.

Kolinda first formed in 1975, and in the next four years they released three albums on the French Hexagone label. But in 1978 the group disbanded and the members went on to other projects.
In 1984, the group got together for a reunion tour. They've been playing together ever since, and have recorded four albums. But even with their diverse sources of inspiration , Kolinda never sounds contrived.
While other "ethnofusion" bands often seem like a patchwork of styles and cultures - contemporary instrumentation precariously and arbitrarily tacked on to ethnic folk music - Kolinda always sounds inevitable. They weave all their various influences together so seamlessly that it somehow seems as if it could be no other way. Their sounds is a solid, unified whole that blends fervor and freshness without a hint of artifice.

01. Napforduló
02. Korai leltár
03. Körtánc
04. Nem számít
05. Elfelejtett Istenek
06. Nekünk a legszebbik estét
07. Rohanás 9-ben
08. Ébresztő
09. Hull a levél
10. Újhold
11. Pengetünk

Part.I.
Part.II.